Spielplastiken 2010 / 2011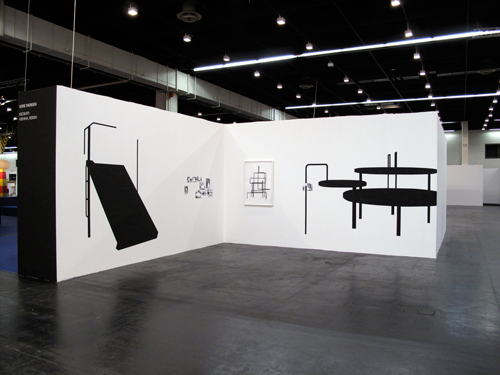 Installation view, Open Space Art Cologne 2011



Throughout the 50ies and 60ies the city of Vienna had quite an extensive programme for art in public space programme, which was part of the rebuilding of the city after WWII. In the framework of this programme artists also developed sculptures for many playgrounds around the city of Vienna, objects which were thought as sculptures aswell as tools to be played with, the socalled "Spielplastik" or play sculpture.
Almost all have disappeared, removed because of wear or for security reasons. However many of these pieces were interesting objects and suggests a formal language and a playfulness otherwise so present in the art and architecture of the time. In continuation of the work "Tiere wollte ich auch nicht gestalten...", the drawings and the related paper cutouts of the photographic sources suggest that these pieces might be seen as subtle signs or models of another, more utopic architectural discourse, well hidden among the gray building blocks of the 50ies.
Whereas the large flattened scale of the drawings a easily read at a distance, the cutouts are small and requires a closer reading, they are perhaps to be understood as foodnotes to the drawings. The difference in scale and the way the viewer has to approach the images and position her body shifts the hierarchy between the play sculpture and its surrounding.