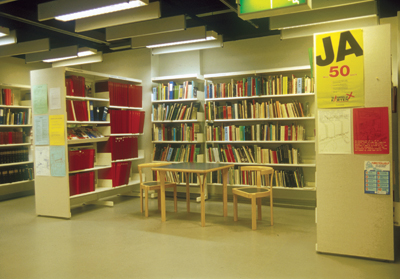 Installation View, Main Library, Copenhagen, 2000


Reader is a site-specific project produced for the main library in Copenhagen, which is the most visited cultural institution in Copenhagen. The piece consists of 16 posters hung on different spots in the library on the existing boards usually presenting different kinds of information, from the library itself and from different groups of users. "Reader" is about how the books are being used, and where the go once they leave the public space of the library, and enter the intimate sphere of the home. It about how the users of the library organise the reading spatially.
The piece was produced through a number of interviews with members of the official user-group in the library. This is a group meeting twice a year to discuss questions concerning the library from the viewpoint of the user of the house. I met with these people and interviewed them about their habits and interests concerning reading and using the library, with a focus on how they arrange the spaces for this activity. In addition to the interviews I photographed the rooms or spaces where they "practice" reading. With this material I produced a number of posters consisting of drawings representing the spatial situation where the reading happens, and short texts or users quotes addressing different aspects of the situation of reading. The posters were hung in different spaces in the library, working as a subtext to the visitors walk through the library in search of the books he or she has come to borrow. They referred to the private situation of reading and to the very individual uses of the public books on the shelves.